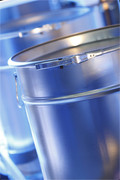 Dr. Demuth Lackfarben
About our company
Innovation, customer satisfaction and quality "Made in Germany" are the significant values of our success for more than 50 years.
As a mid-sized family-owned company, we are focused on the direct dialogue with our customers, as well as the kow-how and commitment of our employees.
Our interest is to satisfy your specific require-ments. Advice and service – also on your premises – is our daily business. Our customers are always the center of our attention.
Dr. Demuth – Derisol Lackfarben – your way to a sustainable future.
An effective composition of color and protection
High-grade products and uniform high product quality fulfil the demands of our customers.
Customized and innovative product developments are realized successfully with competence and experience. The results are paints which guarantee corrosion protection even under extreme conditions.
Guaranteed color constant
It is our goal to meet highest quality demands. Purchasing high-grade raw materials, permanent quality controls by our test and development laboratory with its highly qualified team of staff and the utilisation of state of the art control technology in our manufacture all ensure an uniform quality standart, which consequently increases the quality of your final product. Customer requirements are quickly realized and product properties fulfilled.
You choose the shade
Personal consultancy by our qualified and dedicated customer advisory service is obvious and belongs to our daily business.
Our product qualitiy guarantees a worldwide distribution and it is an important element of the firm´s philosophy. Individual problem solving is ensured by special customer services which is guaranteed by our expert and experienced technical consultants.